I wasn't intending to post anything today, I really wasn't. But when I was taking a trip around the internet I spotted the monochromerotic prompt is candle light. I haven't taken any pictures with this form of illumination but it took me back to a surprise I created for Sir a while back.
At that time I'd spent four weeks on enforced rest following a little procedure. The long weeks passed slowly, giving me time to plot ways of entertaining him, when permitted to do so. The knowledge that I'm brightening his day with my mischief feeds my submissive nature, draws me to him, grounds me. It was him, after all, who planted the seed for this particular form of submission in me, encouraged to grow, take chances and push myself. This is a sense of fun that I am incredibly grateful to him for nurturing.
One idea was to pour hot wax on my pussy and make a video for him. I'd wanted to do this since Dr Lovelace encased my feet, but it just had never quite happened.
Until now.
In line with the prompt, I did indeed light a candle (OK, OK, there were six) and waited for the wax to pool before pouring from a safe height. Gradually getting braver and closer and more encased. The image I've shared is a screengrab from two minutes into a six minute video. Head tossed back, a smile leaking across my lips as the heat and blissful discomfort centre me.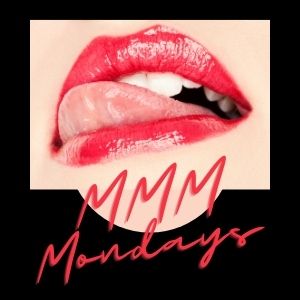 I'm linking Light A Candle For Sir to both Mmm Mondays and Monochromerotic. This seems to be a semi regular meme combination for me. Another fabulous post I shared for both is Partially Suspended Animation. Take a peek if you fancy seeing some more of my personal mischief.
From the story of how the barefoot sub became the woman she is today, to toy reviews, with a hefty dose of contemplation, a sprinkling of erotica and a LOT of nudity in between, you can be sure to find something to tickle your fancy at A Leap Of Faith.