I'd like to say that this last week has been a struggle, but I'd be not entirely telling the truth. I feel like I've been living partially in suspended animation. I have very few memories from the last 7 days, and until Friday evening I couldn't have told you why. That's a pretty scary headspace to be in when you've worked so hard to recover from severe depression. The kind of darkness that swallows days whole.
I do remember, at one point, wishing sir would set me some tasks.
So I asked. I thought that would help to focus me, clarify my brain. He's working away at the moment so my request was pie in the sky, and I'm grateful. I do have some long term tasks in place, each week I have specific things to do. And I only just managed to complete these last week, crossing the finish line with minutes to spare. There's no doubt that I would have achieved any short term goals he may have tasked me with, had he been available and wanting entertainment. But, as is evident by the lack of writing here, and the volume of sleep I got over the weekend, what I needed was rest rather than pressure.
Opening my computer this afternoon I was greeted by a slap in the chops.
Shocked to see an open tab. From Friday morning! This was when I had hastily closed the laptop in frustration at the words swimming around in front of my eyes, a total lack of cohesive thought. My site was waiting to be logged back into on yet another abandoned tab. This image, a partial suspension, with a touch of editing, greeted me as the site loaded.
Last Wednesday the lovely Angel popped round to lab some ties for a tutorial she is planning for her site. We had a lovely few hours of rope together, laughter and tea. (Though only one cup as my brain was already not firing on all cylinders!) There are lots of fun ties to share coming up. Absorbing this picture I was taken back to that waist rope. There is complete clarity there! Angel's intention was to hurt me (she knows I'm a masochist) but instead it triggered lots of giggles. Oh, and that back stretch…. bliss! I heard myself saying "Mmmmm".
As it's Monday I think that means I am duty bound to share it!
I struggled with focus for the vast majority of last week, but look what's been achieved while dazed, confused and generally vacant. I've woken up again now so look out! I've found my words again.
Have a wonderful week everybody.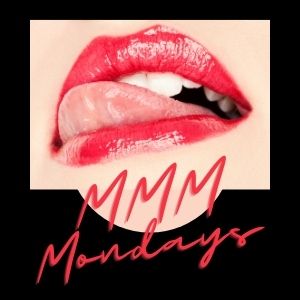 Have you enjoyed partially suspended animation? Perhaps you'll like this post my Mmmm Mondays archives: Absolute Calm.
From the story of how the barefoot sub became the woman she is today, to toy reviews, with a hefty dose of contemplation, a sprinkling of erotica and a LOT of nudity in between, you can be sure to find something to tickle your fancy at A Leap Of Faith.