Now then, where did I get to? Oh, I know! I was telling you about the task that Sir had set for me– 6 weeks to plan a bukkake party for myself and a lady friend. Sir wanted me to be front and centre, and realise how sexy and attractive I was. But my initial enquiries for a location had gone a bit wrong, in the style of Pie and his need to control. (Which, as you know, is not on my agenda) I'd had another idea though, and with a play munch fast approaching there was only one thing to do. I had to return to the boudoir!
It was a quiet night.
As I recall, the weather was pretty shocking, and it wasn't quite payday. No matter, all the more time to dedicate to my task.
I sat at the bar, chattering away with KJ, the man in charge. I mentioned my task, bringing into conversation the need for a location and wondering if I would be able to hire out the studio space? When he said yes, I enquired after security and he assured me that he would remain on the premises. He also pointed out the CCTV which would be on, and I jokingly asked if he could let me have the recordings. Well, it was kind of a joke, but also kind of not. Fortunately he would be more than happy to share the tape with me afterwards.
Next came a quick back and forth with CC.
We got to planning dates and timing while I was on site. Once we'd got that sorted and my tea was finished, my attention turned to the lady of the house. After the last time I thought that we had unfinished business. She'd introduced me to her fucking machine and helped with a task. I hadn't been able to give her something special in return. With that in mind I had brought my rope bag, and offered to tie her up.
I'd put things in place for yet another return to the boudoir.
Now it was time to create havoc! Boundaries pinned down, I knew what I could and couldn't be doing with her. This meant I could plan a fun game for her. I put her in a hogtie of sorts, leaving space for me to use impact toys on her as a means of distraction as she tried to escape. These pieces of kit came from their well stocked studio: a crop, a flogger and a cane… they were just what I wanted.
So, back to the play.
She was tied and trying to escape. I was hitting her with things. She was getting cross as I distracted her. I was laughing at her ministrations. We were in our own little play bubble, in the middle of the main play space.
But we weren't on our own.
It soon became clear that the others in attendance were watching, enjoying our scene. Like I said, it was pretty quiet and the only two I can recall being in our audience was KJ (who was enjoying watching his partner wriggling on the floor) and TheRock, who I'd met at a Studio Onyx munch at some point. I'd recognised him as he is part of a group that takes crazy-fun photos, one in particular had stood out in my memory and gave me an opening to reintroduce myself earlier in the evening.
The two men watched as she struggled in my bindings, rolling around on the floor. They were enjoying themselves as much as we were. OK, I can only really talk for me but she didn't use her safe word and each check in was positive so I assume she was happy too!
The return to the boudoir wrapped up nicely.
I released her and chatted while she came back down to earth. Then I made the long drive home, from the play space that had fast become a favourite. Sleep was particularly welcome that night. I don't know how dominants do it… topping is exhausting!! When I woke the next morning I was surprised to see a message on Fetlife from TheRock. "It was great to see you again" he said, continuing with an invitation to a house party. It would be a weekend gathering of kinky friends, food, wine and play, if desired. No pressure, just a good crowd. He explained that he doesn't normally invite random people to his parties, but something told him I'd make a good fit.
I was unsure.
A house full of strangers, where the host was someone I'd met twice, briefly. I shared the invitation with Sir, explained my nerves to him, asked myself the questions he always does:
The second answer was a Yes! The first I was unsure. When TheRock invited me to join the whatsapp chat I accepted. That way I would get to know some of the people who would be there. That would give me the opportunity to make an informed decision. In that chat I was in for a big surprise…
But more on that next time…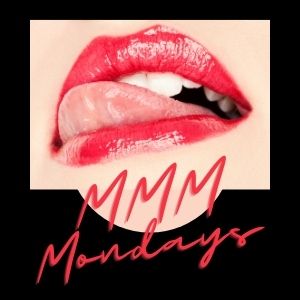 I had to cheat a bit for the header image for Return to the Boudoir. No images were taken that evening, so I've shared another photo from a fun day with Alice, back when I was tying him up for some A-Z April posts. If you'd like to support my blog so I can get out and tie more of my friends up for your viewing pleasure, please consider buying me a coffee.
From the story of how the barefoot sub became the woman she is today, to toy reviews, with a hefty dose of contemplation, a sprinkling of erotica and a LOT of nudity in between, you can be sure to find something to tickle your fancy at A Leap Of Faith.