Dating, what a nuisance it is. Or maybe it's the looking for a date that I find so awful? Having to network, usually online initially before meeting for a coffee at a neutral location. So much posturing, posing, preening. Being vulnerable and allowing others to see the real 'you' appears to be actively discouraged. So very far removed from who I am, not to mention being the opposite of what I want in a partner. That all changed when I met you.
Without doubt ours was a chance encounter, or perhaps we were at the mercy of the universe? My bag splitting, spewing its contents all over the floor. You… so helpful, dropping to your knees and gathering up my spoils before I had the chance to retrieve a replacement carrier from my handbag. Eyes gazing up at me, tentative smile on your lips.
You saw right through me immediately, just as I did you.
When I stumbled across you on the app a week later, the only reasonable conclusion was to swipe right. Only, that wasn't to be the conclusion, it was the start of something. Maybe…
You matched within the hour and so I popped you a "hi, thanks for your help with my shopping", surprisingly shy given my usual persona. Being the first person to catch my eye in many months I hoped my message stood out. Had I made an impact on you? Would I be interesting enough? Were we looking for the same thing? Tricky to know these days, when dating sites are used for hook ups, friendships, online only or lifelong relationships. Add in my love of the alternative and the difficulties level up. The only way to find out if we're a fit was to chat, and chat we did!
But it wasn't enough. For either of us.
So we made a date, tea and cake in my favourite coffee shop.
Do you remember the Gazillionaires' slice? Millionaires' flapjack, rich and moreish. Perhaps the best cake I'd had all year. Maybe it was that good, or maybe it was watching you fetch it for me. I hadn't asked you to order and pay, but you went ahead and did it anyway. In those moments nothing was too much trouble for you. Some would say this is how a gentleman should behave, but that's not the experience of this independent, strong willed woman. Not usually, anyway. The hour that we spent together was a joy, we talked as equals, but that undertone of obedience from you was delicious.
Leaving the noise of the cafe behind, you walked me back to my car, respectfully a step behind. Beautiful, we'd not even got to discussing dominance and submission, or even sex. The quiet, calm that fell over me as we fell into pace was only heightened when you suggested dinner the next week. I permitted you to kiss my hand when we reached my car, asked you to message me later in the week before sliding into my car and watching you walk away in my mirror I sighed loudly.
Dating has never been my thing but inspiration hits hard and unexpected at times.
The drive home was uncomfortable, mainly due to my focus being elsewhere than the road. You had penetrated my perversions completely and I was having trouble working out which scenario I'd prefer to use you in first. Would I have your face or your arse? Or maybe both… I was having trouble not visualising the pleasure and torment crossing your face as I imagined toying with you.
Entering my lounge I settled on the sofa, eyeing up the shiny parquet and wondering whether the Milker I'd been gifted but never used had a strong enough suction cup to stay firm. If I asked you nicely would you lube your tip, straddle the masturbator and let me watch as it worked your shaft? The thought of you impaled in that way made me wetter than it had any right to. I wanted to see you hold the plank, a tortuous stress position, while the masturbator pumped you vigorously. Without proper conversation I had no idea if this would be welcome humiliation or a step too far. I liked to think it was the former and reached down between my legs to tease the pressure growing there.
As soon as my fingers grazed my swollen clit I saw your face again.
Lifting my dress I'm soon spreading myself wide. Touching myself I imagine it's you there, lapping at me, swirling around my folds, seeking the nectar which began to flow the moment I imagined your cock being swallowed by the greedy toy.
I wonder if you'd reach down and increase the intensity if I requested you to. Would the thrusting motion make you moan, sending your vocal reverberations deep into my core. Would I have to pinch your nipples to remind you to pleasure me fully, in spite of the onslaught of sensations distracting you? I don't imagine I'd need to, my mind has decided you're going to get me off and any chastisement from me would be to heighten rather than correct your attention.
I circled and swirled, visualising your mouth firmly clamped to my apex.
I'm verbalising my motions as if teaching you what feels good, what's right for me in this moment. The climax, slow to build, makes itself known suddenly, crashing over me. My mind a haze of lust, I'm unwilling to stop. Reaching for the vibrator that is never far away I gather my skirt, unzip it, pull it off. Placing it on the floor, creating a cushion to protect my knees, I kneel behind where you would be.
As I imagine you, on all fours over the toy, I know the request that would follow. You'd be better on your back, resting on the sofa, knees pulled back. I'd ask if you have a virgin arse? If I can claim it as my own? But I want you to keep the Milker doing its thing, I need you to look in my eyes and, most importantly, I want you to ask permission to flood the inside of my toy like the dirty boy you are. "Can you do that?" I'd ask, allowing you to lick the tip of my own cock. You know… If you were truly here, satisfying me, allowing me to use you, I would be wearing the beast by now.
The beast is my favourite strap on, saved for those I'm dating seriously.
For those special lovers I know can take what I want to give. The beast has been languishing in a drawer for so long, I'd almost given up using her again. But after meeting you I am not so sure, perhaps there is hope after all?
Sliding the vibrator inside of me I thrust to the rhythm I'd use on your tight hole. Gentle strokes at first, but I know that with lube and mutual enthusiasm you'll enjoy getting railed by me. The pressure building inside of me, walls tightening around the vibe, I look down into your eyes, hooded now with lust and need for release. I know I would tap the button to increase the intensity for you, the third step up would be impossible to resist with me buried inside you, the head of my cock unrelenting in its pursuit of your pleasure, crushing your prostate until I hear it…
"Please!! I need… I need to…"
In this moment I knew I would be unable to deny you. Certainly not the first time. Today, my own orgasm roars out of me, loud enough to fill the void where you should be.
Where you will be.
When the time is right.
Were I truly watching you lap at your cum as it oozes from the hole your cock had vacated I'd be frenzied. Rushing to touch your glans, post-orgasm torture on my mind. Instead I thrust the vibrator deep inside of me, thumbing my clit roughly to settle my needs once and for all.
Settling back into the cushions, eyes closed and breath hoarse in my throat, I wonder if you have potential? Yes, I think, I'd like to see you again. And next time, I believe we need to share more than conversation and a piece of cake.
Perhaps dating isn't so bad after all!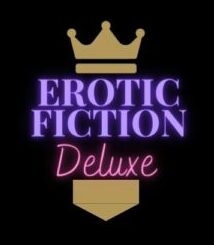 Click the buttons above to see what everyone is up to for each. I know Dating Isn't So Bad follows the Revelations prompt of dating, which has nothing to do with Radio – this weeks Erotic fiction Deluxe prompt, but I wanted to share as fiction is not something I write often and I love Liz black's work and meme. Here is the last piece I shared there: Cuckqueaned By A sex Doll.
From the story of how the barefoot sub became the woman she is today, to toy reviews, with a hefty dose of contemplation, a sprinkling of erotica and a LOT of nudity in between, you can be sure to find something to tickle your fancy at A Leap Of Faith.