Affiliate links have been used in this post. For more information please see my disclosure page.
In my post about my first photo shoot I mentioned that I had been learning about latex, or rather developing my interest in it. And how this had led me to have possession of a lovely hood. I know I've shared some images of me in latex over the last few years, but this story needs a little unpicking and so I'm going to start at the beginning.
With my first exposures to this fascinating material.
As you will by no doubt know, I have a variety of kinks and fetishes. Some of them have been around since before I knew about sex, others only became clear when I started to discover that side of myself. Yet more have been found through conversation with others who enjoy such things. 'Things', in this case, being latex.
One day, before the photographer had got in touch, I was busily going through my messages on Fabswingers. Busily being the operative word for a woman's account on there gets easily overrun with single men (mainly) if she has been foolish enough not to set her filters tight. In amongst all of the inane openers was an well thought out, interesting message from a man who had put effort into his approach- His name, for the purposes of the blog, will be LatexC. Not only was his profile well filled out, he had also gone to the effort of reading mine and sending an opening message that was tailored to me. (HINT: If you're a single guy on a site like fab, this is how you get noticed. It is not a case of sending a photo of your todger and saying "WUU2?")
His photos showed me he was a latex fetishist, even before his words did.
I knew that latex looked great on a certain range of shapes, but being larger, lumpy lady at the time, I hadn't considered it for myself. But that didn't mean I couldn't chat to him about his love of it. As our conversations continued it became clear that latex was more a NEED than a like, and while he could enjoy sex without it he was often left feeling unfulfilled, like something was missing. I get this, I have similar feelings around pain.
Up until this point I had only considered the visual impact of latex. The idea that it felt different had never entered my mind. Listening to LatexC, it soon became clear I'd been entirely in the dark. His passion for latex covered the look, naturally, but it was the sensations that greeted his skin when he wore it that came across in his messages. When his rubber clad flesh was gently stroked it would feel like electricity passing through him.
Naturally, I needed a second opinion.
So I called upon some old friends of mine. Do you remeber Tratutaruan? After our first conversation, and his golden nugget of advice on how to approach my first event, he is a go to guy for thoughts if I know something is of interest to him. (Have you read his quick-ish guide to ball gags yet? If not once you're finished here, please do go and check it out.) He and his partner, CheekyC are heavily into latex.
Knowing this I asked their thoughts on a good way to start learning about latex.
I didn't have permission to meet LatexC at the time. I also wanted to make sure that, when I was allowed to meet, my sexual freedoms wouldn't be wasted on a turn off. As luck would have it my favourite venue was hosting their mid week munch on an evening when I had childcare. We arranged to meet for a long overdue catch up and they would bring their hoods.
I'd no idea that there was such an array of headwear, and they hadn't even brought their entire collection. exploring their bag of hoods I was delighted to discover that they were indeed tactile, and they smelt pretty good too. They offered me to try on one of their hoods. I was pleased to have the opportunity to test one. Would I freak out at having my head enclosed? The answer was a resounding no.
I was curious to see how it would translate to sensual, and indeed sexual, play.
Well, my mind switched from interested in LatexC's experiences so far, to wanting to be an active participant in his future adventures. As luck would have it Sir had plans for me to engage slut mode and so I was soon able to take my explorations from the platonic to the lusty.
LatexC and I are both runners. At the time I was just back to it and he was running ultras with ease. We decided to meet at a local lake for a few laps of conversation on neutral territory. A few sweaty miles later we decided to call that a day and head back to town. First for coffee! He's a fellow coffee snob and I wanted to introduce him to my favourite spot. Then he would show me his rubber.
If I still wanted to see it.
Which I very much did.
He got into his long sleeved, enclosed feet cat suit and hood, before producing a second hood. It was black, except for red edging around the eyes, mouth and neck.. I was feeling quite awkward in my own body at the time, I think I must have been nervous! Or maybe it was the weight of perceived expectation I felt. This was his passion, his need. If I was too big/fat/lumpy/unattractive, or otherwise not good enough then perhaps I would ruin this for him.
I am embarrassed to say I left my baggy t-shirt on. But with his help I put the hood on too. Quite the erotic ensemble, I think you'll agree! Well, to him I was a lusty vision and his excitement was evident. He stroked my cheek, a gentle touch but one which has stayed with me. That electricity he'd mentioned was there. I hada second skin and the lightest of touch sent shocks zipping through my body. Gentle kisses peppered my rubber clad cheek and neck and sent shivers cascading over my skin. This then erupted in goosebumps that I felt certain would be visible through the flimsy material.
For someone who needs the dark intensity of pain, I'd long since discovered the joy of light touch in contrast. I find strength and power in the darkest of shadows, and yet embracing brightness makes me feel vulnerable beyond compare. And yet, in this scenario, I had no desire to indulge in pain.
Sinking to my knees I tested out the mouth hole.
Initially I made sure that I could wrap my lips around him, and then indulged myself with his arousal. Before long the hood was sporting a tribute, fitting my explorations. And we both had insane grins on our faces.
The joys of learning about latex, or indeed any new kink, is discovering the nuances of play in that genre. I'd barely scratched the surface but was keen to discover more. And with LatexC on hand for playtimes the possibilities were not going to run out any time soon.
But you may have to wait a while to find out more on this education in rubber. There is plenty more fun to be had…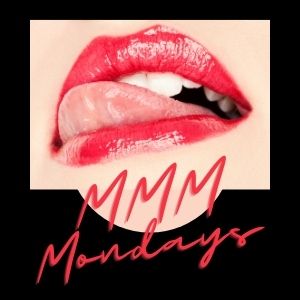 Learning about latex is the next instalment of my story behind the blog. The next post will be with you shortly…
From the story of how the barefoot sub became the woman she is today, to toy reviews, with a hefty dose of contemplation, a sprinkling of erotica and a LOT of nudity in between, you can be sure to find something to tickle your fancy at A Leap Of Faith.