I've spoken before about Autumn being my favourite season. The inclement weather is of particular interest to me. So when I saw the forecast came with a headline of Caution: Flood Warning, I had no reason to suspect it meant anything other than heavy rains were coming. Of course, I should never assume anything; a lesson that Sir has tried very hard to embed over the years I've been his. Sometimes I remember, other times I struggle.
This review is an example of the latter.
I was recently sent an exciting package by Betty's Toy Box. Inside were a few items in exchange for fair and honest reviews. I've already shared my experiences of (and rookie mistake with) the Oh My Clitoral stimulation Gel. Next up is the Powercock Girthy 8″ Realistic Vibrating Dildo.
I want to begin my review from before the parcel arrived, before it was even chosen. With my experience of the Betty's Toy Box team. Discussing options for the products I was really impressed with the way Tracy established my needs. Initially that I am a vulva owner and swiftly progressing on to my likes and dislikes for insertable toys. There was nothing awkward about the discussion, she was so warm and engaging throughout.
Now, I'm a cis gender woman who is comfortable discussing sex and toys. I also enjoy stuffing myself with, among other things, penis shaped dildos. Regardless, I was still more than appreciative of the care that was taken to establish my preferences.
On this occasion it was to narrow down the sample options available for me, but I can see how useful her approach would be for customers who might struggle with the vast amount of toys on offer. I have people in my world who find the world of sex toys and self-or-partnered pleasure intimidating, friends who need their hand holding for many reasons. And I love to support them in finding their perfect toy. If this sounds like you, and you don't have a sex positive friend you can talk to, then I totally recommend reaching out to Betty's Toy Box. Or me, of course!
So, I was here to tell you all about my 8″ Powercock vibrator.
It arrived on my doorstep, discretely packaged, in surprisingly speedy fashion. I have to say I loved the packaging. Inside the box was the cable, a toy bag and… a sticker! So, I love crafting and I'm part of an ongoing "inappropriate art" project so this sticker right here has it's home sorted.
I was so keen to get testing but first I had to charge it. The packaging told me it would be fully charged in 2 hours so I inserted the cable into the base of the cock and patiently watched the white light blinking away. OK, I didn't sit there gawping at the flashing light for the whole time! But I didn't play while the battery filled.
My curiosity got the better of me in another way.
I picked it up and caressed the shaft. The silicon shaft is very smooth, but also offers resistance. So, it's not squeaky and shiny. The veins are pronounced and evoke memories of cocks on the brink of orgasm. And the body of the vibrator is not straight edged. Instead the girth increases in the top half before tapering back to the head. And when I grasped it in my hand and squeezed there was some give to the swollen body of the cock. Not a lot, but it left me wondering… I wanted to know how my body would react to the pressure exerted on my inner walls.
As the day progressed I kept myself busy ahead of the weather report of heavy rains and a red flood warning. Outside jobs done and run completed I had the house to myself. Making a drink I settled in for the testing to begin. I want to state at this point I'd not fucked myself for four weeks. I deserve a pat on the back for my restraint in the initial testing phase.
Past experience tells me to make sure I can power a toy down before I get started…
My palm was getting turned on just holding it, my ears were not being assaulted.. The vibrations themselves needed testing on my body, namely as a clit stim. Running the vibrating head and shaft over my eager, sensitive areas I was soon left squirming and aching for more. I diligently worked through the three vibration speeds and four patterns. As is so often the case my preference is for the fastest even vibrations. However, it surprised me to discover the patterns were not going to be discounted. Externally they felt nice (high praise indeed for me when it comes to a disjointed buzz) and not for the first time I found myself wondering… Would I be able to orgasm on a pattern?
It was time to start working out the answers to some of these questions.
Slowly working the tip inside me, in and out, in- a little deeper this time- and out, in again, out… and repeat until I'd engulfed all 7.55″ right up to the safety collar. While my body was extremely good at self lubricating on this first trial, subsequent outings have required a little assistance in the form of water-based lubricant- because I'm impatient and I know how good this felt and I wanted it in me immediately!
Fully impaled on the powercock I took my time enjoying the vibrations.
The depth and shape meant that my C-spot was fully stimulated and I tumbled off the cliff of a rare but delicious cervical orgasm. However, I was really enjoying myself now and had no intention of stopping. My underutilised pussy had lost time to make up for and unrealised orgasms to achieve. As I enjoyed the veins against my now swollen labia I felt the pressure build. My vagina contracted around the slightly bulbous shaft each time I pulled it out, and as I released tension it was sucked back in. The more I repeated this action the more I became aware of the fluids that were escaping me. Slowly at first, as the orgasm built, and then a torrent of hot, sweet and slightly sticky gush roaring out of me along with an ab-toningly strong G-spot orgasm. NOW I was done for the day. I had laundry to do!
So, that flood warning…?
While I am a gusher, it is by no means predictable or a given that I'll erupt in such a way. However, over the weeks of rigorous testing, the 8″ Powercock has shown itself to be a real dehydration maker. In the process my laundry has been backed up, my living room floor has been steam cleaned repeatedly and I've even managed to capture the elusive squirting orgasm in a video just for Sir. Something that I've struggled to achieve previously. [Note: this capture is not down to my videography skills, I attribute my success entirely to the vibrator.]
Due to the great deal of laundry this produced I decided to check out its waterproof credentials.
The box informed me that it is fully submersible, however, reading the user guide we are told not to immerse it. I was quite glad because I don't find masturbating in the bath a comfortable experience. Instead I took it to the shower. My preference is not to be in the water, due to the way water washes away my slickness and makes things squeaky. However, in the spirit of testing for you all I made the effort. It's always heartening to find a toy that "works" in situations my body decides are less than ideal.
Recently I had an interesting chat with a friend.
She mentioned my reviews and commented that she doesn't own a motorised sex toy. I know that vibrations aren't for everyone, so was surprised to hear her reasoning. It's purely down to the noise they make. Since then every toy that I own has been sound-checked by me. (It's a hard job but I'm dedicated to the cause!) Now that I've started paying attention I am increasingly aware of the noise- If you're reading this… Thank you lovely lady. 😉
With this chat in my mind I tested the Powercock against my new metric.
I have to say, given the depth of vibration that was being kicked out by the motor it wasn't particularly loud out in the open. In fact, it is on the less intrusive end of the aural spectrum. While I can't describe it as "whisper quiet" it doesn't affect my play time in the least. Making it quieter would only reduce the intensity and I'm a big fan of the brain-melting orgasms I've been enjoying with this beast of a sex toy.I have been having altogether too much fun vaginally to use this one anally. As I mentioned earlier it does have a stop collar at the base of the shaft. This is to prevent the disappearing-dildo trick, so in theory it will be safe. But you may like to consider your current stretch as the ridge isn't much bigger than the widest point on the shaft.
So, we've established the powercock should come with a flood warning. Just like the British weather. And that I have become a complete slut for this meaty suitor.
However good this is, there must be some down sides?
Well, yes actually, there is one.
That is the smell.
When licking it clean of girl-goo on that first play I inhaled deeply, promptly wishing I hadn't. It has an almost muddy smell that poured into my nostrils. The first thing I did was check myself, as you do! I seriously thought something had gone badly wrong down there. Discovering that I was fine (better than fine, I tasted delicious!) I washed my new favourite toy and tried the sniff test again. Nope, no better. Over the weeks I've put it to good use and have taken great care to cleanse it thoroughly. The smell is much reduced but the silicon is still tainted. It's unfamiliar, not like any toy I've smelt before. The scent doesn't affect me until I start practising deepthroat which, quite frankly, is unnecessary. I have toys that are better suited for that job after all.
Aside from one minor problem, this vibrator offers so much bang for the bucks. There is a generous penetrative depth of 7.55″ and a girth of 5.3″ at its thickest. There is enough flexibility, side to side, and there is also enough squish to tease and work my internal structures. It fills, it spreads and it send rumbly vibrations through the body from deep (deep-deep) inside. Also, it is easy to clean, body safe and waterproof- which is handy because, yes…
It certainly does require a flood warning!
If I was looking for a generous but not huge vibrator, I would be more than willing to make this purchase.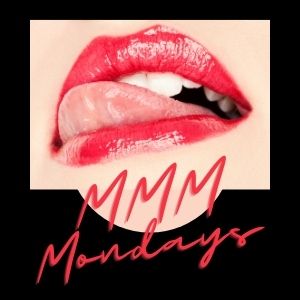 The Powercock Girthy 8″ Realistic Vibrating Dildo is available in three colours- chocolate, caramel and vanilla. Betty's Toy Box currently retails it at $79.99, but it's currently in the sale, costing $69.99. (12th Nov. 2021)
I was sent this product in exchange for a thorough, honest and fair review. Affiliate links have been used in the post.
From the story of how the barefoot sub became the woman she is today, to toy reviews, with a hefty dose of contemplation, a sprinkling of erotica and a LOT of nudity in between, you can be sure to find something to tickle your fancy at A Leap Of Faith.