I can't believe it's been three weeks since my last post from the timeline of my explorations, but I warned you I was excited about the next few posts. Often I speak about trying new things, and the last post was about erotic stapling. But it wasn't the only thing that I was wanting to try. I had a long time fascination, and that is double vaginal penetration.
The name of this particular perversion is kind of self-explanatory.
Or so you'd think. A quick look for definitions on the internet brings a top search result from the Urban Dictionary: A woman having sex with two men at the same time, with both penises in her vagina. In a way this is true, it CAN be two penises, but not always. There is, however, only ever one vagina for this particular sex act. Just with two items being inserted into it simultaneously.
I'd long been a fan of double penetration.
My first experience of group sex saw me airtight (all holes filled) and I'd absolutely loved that. And having a cock in my ass and a toy in my pussy, or vice versa, had been enjoyed often. With Sir, with play mates and when masturbating. But while I loved being stretched, and had learnt to fist myself, it had never crossed my mind to try double vaginal penetration. I have no idea why, after all I'd often searched this up on porn sites and experienced intense orgasms watching the lady cum as she was impaled on two rock hard cocks.
Well, as luck would have it Sir had requested I engage slut mode and I'd eagerly jumped at the opportunity. I had a number to aim for and looked forward to finally meeting some of the men in my fabswingers hotlist.
One of the men asked me about toys, which ones in particular I enjoyed. I suggested that I take them along for our meet at his place. I took a vibrator, a dildo and my Doxy. He had sliding mirrored doors on his wardrobe that filled one side of his room. While I played he sat on the side of the bed watching, touching himself. It was quite the view in our reflected images. He was clearly itching to get involved, but respectfully waiting to be invited to join in.
I'm not a sadist, and couldn't keep him waiting too long.
I asked him to help me with my vibrator while I pressed the wand into my apex. The orgasms came thick and fast, and when he picked up the dildo and asked if he could try that too. Well, I mentioned earlier, I have a double vaginal penetration fascination… I wasn't going to pass up the opportunity to try.
He removed the vibe, which had a more tapered head. Next he inserted the dildo before easing the vibe back in alongside. The stretch was intense, my cunt spasmed around those familiar favourites in a new way. His bed was soaked and his excitement was more than evident. When I'd relaxed enough for him to remove the toys it was his turn. Instead of being stretched beyond sensation my inner walls were engorged, they hugged him tight and rippled pleasure around him. Before long he'd withdrawn, ripping off his condom before depositing reams of delight all over my face and chest.
My double vaginal penetration fascination was under investigation!
But this wasn't the end of my journey.
Later in the week I met with another kinky man. (You remember I had a number to aim for…) He and I had been friends since before the bukkake party, which he'd sadly had to miss, but this week our diaries aligned. I'd shared about my encounter from a few days previously and wondered if he'd like to indulge me again. Practise makes perfect you see!
He was very obliging, and was able to not only fill me with two toys. Once it was his turn to enter me we decided that, rather than removing both toys, we would attempt his cock and the dildo. We chose the dildo because it has a smaller base so would fit alongside his body better.
Well aren't I a lucky lady.
This was every bit as fulfilling as two toys, but without the relentless pressure of two silicon dicks. The climb to the orgasms was softer, gentler and the orgasms themselves flowed through me rather than crashing over me. No less intense, just slightly softer, likely for the real flesh receiving the spasms.
I also wanted to use my requested number to play with established friends.
I may be a slut but nurturing those relationships is just as important as the purely feral connections. A couple of days later I met up with the red shoes. Pink and I always made the most of our time together and this would be no exception. I was so excited about my new favourite activity that I wanted to share it with her. While her partner watched on with curiosity I positioned her on all fours on the bed. Slowly I worked her to orgasm with a wand, before inserting first one then two toys. Flicking on the vibe once it was buried deep inside her, I glanced over my shoulder. Smiling at Red we enjoyed the view as she unravelled over and over.
Who knew I would enjoy double vaginal penetration from the giving side too?
Fortunately she enjoyed herself too, marvelled at what she had taken as she came back to herself afterwards. And he enjoyed her pussy which had been stretched tight too while I took care of my own aching needs. Winning all round!
While this certainly wasn't the end of my slutty week it was the last of this particular kind of adventure.
For now, at least. You don't really think this is the last you've heard of delicious DVP from me, do you?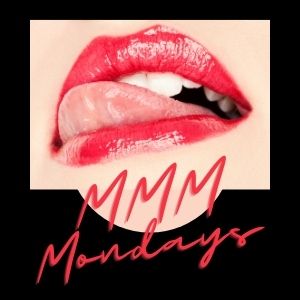 Double Vaginal Penetration- Delicious DVP is the next chapter of telling the story of becoming the woman I am today. (My original task for the blog). The next part will be coming soon.
You can subscribe to the blog in the sidebar and receive new posts directly to your inbox.
From the story of how the barefoot sub became the woman she is today, to toy reviews, with a hefty dose of contemplation, a sprinkling of erotica and a LOT of nudity in between, you can be sure to find something to tickle your fancy at A Leap Of Faith.