Well Barefoot, that was silly! Applying the cream had seemed like a brilliant idea. Cracking out a couple of orgasms in my little window of opportunity between appointments and a run was nothing short of necessary. But, considering my love of, and experience with, clitoral stimulants… Oh My… Rookie Mistake!
I think I'd best start at the beginning, hadn't I?
A little while ago Betty's Toy Box got in touch and we discussed the possibility of me conducting some product reviews. I have long admired their site and ethos so was over the moon. I mentioned my surprise at the vast collection of clitoral stimulants they advertise. Having discovered these a couple of years ago I love to play with them, a cheeky addition to my personal playtimes. I've had mixed results and was pleased to have the chance to try something newand so I chose the Oh My warming clitoral stimulant.
The parcel arrived very quickly, crossing the Atlantic in record time. Right on time. I'd been out of action for a little while and was keen to get well acquainted with myself once more.
This is when things started to unravel. I had a really busy day but found a twenty minute window to take some pictures and with the coast clear I perhaps a cheeky test wouldn't go amiss. As I had scheduled in a run before the school pick up this might even prove a good warm up.
Grasping the tube to peel back the shiny silver disc I was surprised my heavy handedness hadn't caused the tube to weep. Keeping it firmly in my grip I squeezed again. Out oozed a little bit of the gel. I'd been expecting a lube consistency: slick, slimy and fluid. Previous experiences have brought me this or, very rarely, cream.
Squidging the splodge between my fingers I can only describe it as densely viscous. I may have just made this descriptor up but it was halfway between lube and vaseline. Even more curious now I swiped the small amount over my clit. Instantly it swelled, poked out from behind its hood. I didn't get the warming effect, though I was starting from cold so the physical response was my measure of pleasure. All signs were looking good for a successful play date.
Next came my first rookie mistake.
With the clock ticking for my scheduled run I applied a pea sized amount and rubbed it in, massaging it into my flesh. Given my instant reaction to the miniscule amount applied initially some might say I put too much on. Eighteen minutes and four orgasms later I switched off my wand. As the gel had developed the release had intensified until the fourth where I felt like I was going to pop out of my own skin. For reference it would normally take about fifteen minutes of warming up before I cum for the first time, and then they build in power. Especially when I haven't been on a pleasure ban- and I hadn't been abstaining.
So, on this occasion, my clitoris was definitely dancing to the tune of the Oh My warming clitoral stimulant.
I slid into my running kit and dashed off, slightly later than planned but with a silly grin plastered all over my face.
Rookie Mistake Number Two
I didn't wash the serum off my clit before leaving the house.
Silly, silly barefoot! The three day stubble adorning my voluptuous labia and the Oh My clitoral stimulant worked in unison to torment me as I went. I'm no stranger to being stuffed on a run, or to have something buzzing away somewhere, but on this occasion… it was unintentional. Fortunately I have a sense of humour, and an hour later later I arrived home, having retained the grin from my earlier experiments.
Once out of the shower I noted that the sensation abated entirely.
No lasting arousal, well, not after I wanted it to stop. However, I'm heartened to learn that it doesn't stop working with a little moisture. The stimulant effect continued for over an hour of play and running. Both of these make for damp conditions. I would guess the slightly waxy texture makes it a little bit waterproof?
I can be a quick learner, this was evidenced during my next opportunity to play.
This time the urgency was lower. I applied some of my usual lubricant- non stimulating- and enjoyed a gentle warm up. Slow and teasing. My intention was to apply the warming gel after my first orgasm. It came as a surprise that the serum penetrated the lubricant. When applied to my already blazing lips and clitoris the warming effect was much more noticeable. As I rubbed it in the heat grew. Not too much, but delightfully noticeable as the next release washed over me.
Why did I choose the Oh My warming stimulant?
I chose this option because it doesn't contain any Glycerin- an ingredient which upsets my vaginal flora. The other ingredients were unknown (aside from the ginger extract which I love) and a few days after this round of testing is complete I've had no adverse reactions.
I've discovered this texture to have longer term effects, until it is removed- an important consideration for me. The small dollops that I've used for my playtimes show me that a little goes a long way. I'm confident that my 30ml tube has the potential to last for many, many more orgasms. Value for money is always a good thing.
I knew, from the ingredients, that this would have my kind of aroma. The scent is not overwhelming, but it does have a hint of medical gel. Like sniffing Deep Heat that's been rubbed on hours before perhaps. I appreciate it wouldn't be everyone's favourite, but this is a massive bonus for me- it really gets my blood pumping. Perhaps playing rugby in my formative years has influenced my olfactory arousability? Maybe that's a question for another day. Moving swiftly onwards…
So, my testing, even with a rookie mistake or two, has been pretty conclusive.
This little tube of warming stimulant really does pack a punch. Not only is it an effective orgasm booster, it is mildly waterproof too and the effects lasted for well over an hour, before I washed it off. At this point it was immediate relief. I've had no negative side effects, and I'm excited that it is latex condom and toy safe too. I am looking forward to testing this out with play mates and, if it amuses him, Sir. It is a very welcome addition to my toy bag.
Thank you to the team at Betty's Toy Box for sending this to me in exchange for a fair and honest review. You can purchase the Oh My warming clitoral stimulant for $17.99. Affiliate links have been used in this post.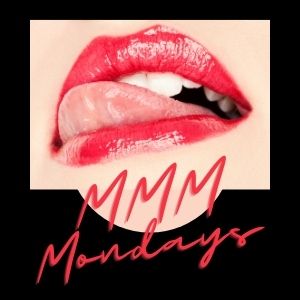 I'm sharing Rookie Mistake? Oh My! to Mmm Mondays Meme because this definitely made me feel more than Mmmmmm. Do check out the other posts linked up this week.
From the story of how the barefoot sub became the woman she is today, to toy reviews, with a hefty dose of contemplation, a sprinkling of erotica and a LOT of nudity in between, you can be sure to find something to tickle your fancy at A Leap Of Faith.